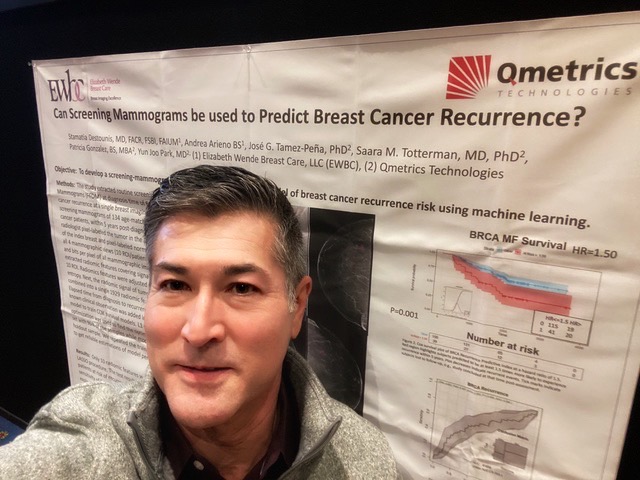 QNotes, Vol. 11, Issue 3
Edward Schreyer, CEO, Qmetrics, recently attended NCoBC 2022, the 31st Annual Interdisciplinary Breast Center Conference, in Las Vegas, to present a poster, "Can Screening Mammograms be used to Predict Breast Cancer Recurrence?" The authors are members of the Qmetrics team and professionals from Elizabeth Wende Breast Care (EWBC).
The poster highlights the results of collaboration between Qmetrics and EWBC to further develop and validate a breast cancer risk prediction technology. In the Conclusion the poster states they "…demonstrated that radiographic phenotype from screening mammograms may be used to predict patients at risk of recurrence."
"I enjoyed sharing our progress toward a cancer risk assessment based on routine mammograms," commented Schreyer. "This is the first year Qmetrics has attended this conference and we are glad to be part of this great event dedicated to improving women's health.
Qmetrics and EWBC look forward to the continued collaboration and presenting any new findings.