Kuvia3D® Provides Radiologists Fast and Easy Generation of Rich 3D Visuals to Accompany Radiological Reports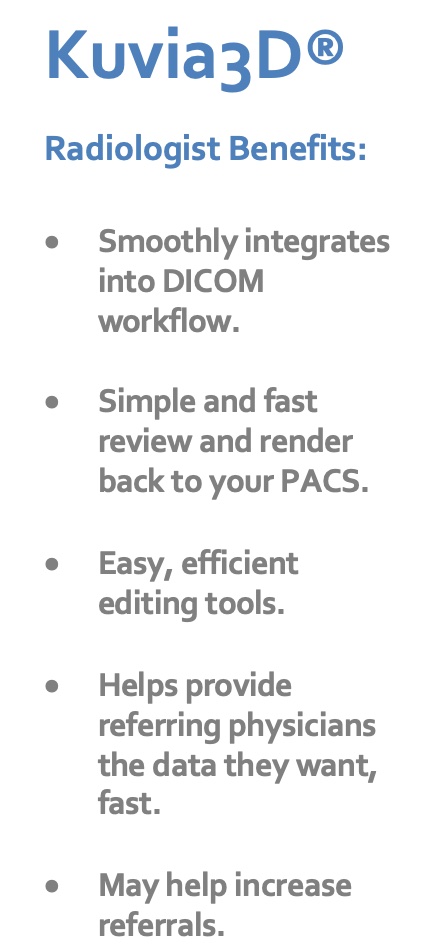 Kuvia3D gives you the ability to quickly and easily provide your referring physicians with intuitive and familiar 3D visualizations of knee bones and cartilage. Kuvia3D was 510k cleared by FDA in 2015 as a Class II medical device. In 2022, FDA provided guidance that Kuvia3D is now considered a "software function" which is not intended for diagnostic image review.
Kuvia3D automatically segments fat suppressed knee MRIs, so you can quickly review and render 3D images1 supporting your interpretations. You can automatically generate color maps of cartilage thickness, add specific linear measurements or landmarks, then export the renderings back to your DICOM imaging system for inclusion in the imaging study.
Increase the value and appreciation of your imaging studies by providing referring physicians and their patients with colorful, intuitive visuals that depict radiological findings in a familiar, easy-to-understand format. Kuvia3D makes you an integral part of orthopedic patient care.
1: Tamez-Peña JG, Farber J, González PC, Schreyer E, Schneider E, Totterman S. Unsupervised segmentation and quantification of anatomical knee features: data from the Osteoarthritis Initiative. IEEE Trans Biomed Eng. 2012 Apr;59(4):1177-86. doi: 10.1109/TBME.2012.2186612. Epub 2012 F