See Beyond the Surface.
Qmetrics: Meeting the Promise of Medical Image Analysis.
What do you want to know about injury, disease or treatment effect?
When a player suffers a concussion, when can they safely return to play?
What is the risk of metastatic breast cancer recurrence in a patient?
Medical Image analysis can supply the answers. MRI, X-Rays, and CT scans capture the image of injury or disease from the inside and Qmetrics' experts and technology can analyze the image data, unlocking the information contained within. We can see what conventional radiology cannot because we measure based on more than one image series, 3D texture and contour in and around every pixel, and something the human eye cannot coordinate and discern.
---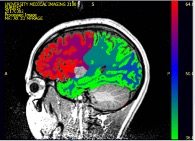 Unparalleled Customer Service. Maximum Efficiency. Global Market Understanding. Client Driven Processes. That's the Qmetrics Advantage.